120V 1880W 15.67A NEMA 5-20 Dedicated 120V 20A circuit and outlet required
Amplify II Specifications
The Amplify II two-person sauna fits an active, busy lifestyle and attitude. It maximizes your sauna time. You?ll feel like your session is productive because inside your cabin the higher heat produces a noticeable sweat with 165-degree temps. You?ll know your time was well spent because Sunlighten?s unique SoloCarbon far infrared is clinically proven to penetrate deeper to increase core body temperature. Extend your workout benefits while you recover. Remove the bench to do sit ups, crunches or stretches while the infrared waves penetrate deep, fast and meaningfully to detoxify your body, increase circulation, aid muscle recovery and help relieve pain. Built-in chromotherapy adds another layer of light therapy for energetic balance and mental wellbeing. And, set up and assembly are no sweat using Sunlighten?s Magne-Seal locking system. It?s an investment in your present and long-term well-being. Amplify II makes it count.
Enjoy listening to your music with premium Blaupunkt stereo and speakers. You can listen to the radio, connect to the tablet to watch and listen to your favorite Netflix show or use the Bluetooth connection to any of your own devices. The cabin becomes your own sound studio whether you?re streaming your mediation music or catching up on your favorite podcast.
Because we pride ourselves on only using the highest quality materials, we partnered with Celliant to develop the covers for our heaters. Celliant?s patented textile technology transforms your body heat into infrared energy. While our heaters are already 99% emissive, we make sure nothing comes between you and the high quality far infrared waves. This is exclusive to Sunlighten.
Every Sunlighten sauna comes with built-in chromotherapy to enhance your sauna experience and transform your mental wellbeing further. Chromotherapy paints your sauna with colors from the sun?s visibility light spectrum believed to align with different body energy points, creating and artful atmosphere with a balance-bringing effect.
SoloCarbon Coating + Additional Heaters
To deliver health benefits like heart health and detoxification, infrared heaters must emit high concentrations of the best infrared waves optimized for the human body to absorb. Sunlighten innovated an industry-game-changer we call SoloCarbon: a special coating that maximizes the highestÿqualityÿandÿquantityÿof infrared available. Independent testing proves it is 99% effective. In Amplify, we amped up the heat factor with additional halogen heaters to get it hotter faster.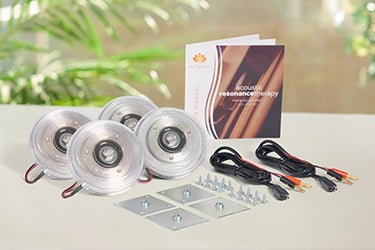 Acoustic Resonance Therapy
Take your stress relieving sauna experience to the next level with optional Acoustic Resonance Therapy (A.R.T) sauna add-on. The sonic technology combines the healing effects of sound and vibration therapy to relax your body and calm your mind.
The Amplify Full Spectrum Sauna
Explore Sunlighten Saunas Products. Ask about this collection at our showroom.
Contact our team for more information about sauna pricing. Complete the form below and a member of our team will be in touch with you shortly.