Step into the escape that a Cardinal pool can provide. Our variety of traditional and custom shapes are only the beginning of building a backyard masterpiece. All Cardinal pools can be tailored to fit essentially any environment, backed by 14-gauge galvanized steel walls for a structurally sound & durable foundation. With our pools, elegance and functionality always remain at the forefront.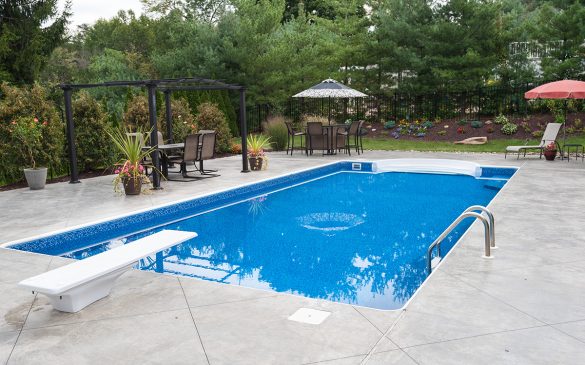 Simple, spacious, and elegant, the Rectangle gives you the option of adding a slide or diving board to the deep end while maintaining a shallow wading area at the other. Ideal for swimming laps for exercise or maximizing pool "fun" with plenty of room for game/recreational amenities. The Rectangle is also perfect for installing an Auto Cover to keep debris out easily.
Sizes Available: 14′ x 28′ , 16′ x 36′ , 16′ x 32′ , 18′ x 36′ , 16′ x 34′ , 20′ x 40′
Customizable options include, but are not limited to: custom steps, lounge or benches (thermoplastic or steel), vinyl liner, step ladder, waterfall/water features, lighting, coping/liner track options, etc.
Add shape to the Rectangle with beveled edges provided by the Grecian shape. This classic, geometrically proportionate piece of Greek history will add a touch of sophistication and beauty to your landscape.
Sizes Available: 14.5′ x 28.5′ , 16.5′ x 32.5′ , 16.5′ x 35.5′ , 17′ x 31′ , 17′ x 34′, 18′ x 37′ , 20′ x 40′
Customizable options