120V 1350W 20A NEMA 5-20R, 5-20P Dedicated 120V 20A circuit and outlet required
Signature I Specifications
Everything you see, feel, hear and touch in your Signature I contributes to your wellness experience. Sunlighten?s SoloCarbon? heaters deliver the highest quality and quantity far infrared heat available on the market, which means you get the most effective health benefits. Our technology design mitigates EMFs to a lower level than most common household items. The air is not suffocating or harsh, it?s a gentle, comforting warmth. The ergonomic bench is kind to your body with a rounded edge. Our powerful Magne-seal locking method makes assembly easy and holds heat in with no unsightly screws or nails. Chromotherapy lighting enhances your home sauna experience using colors from the sun?s visible light spectrum to bring balance and mental wellbeing.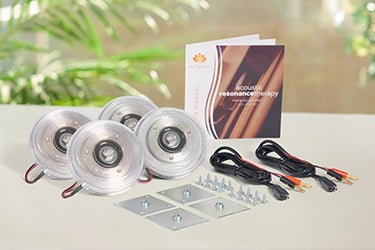 Acoustic Resonance Therapy
Take your stress relieving sauna experience to the next level with optional Acoustic Resonance Therapy (A.R.T) sauna add-on. The sonic technology combines the healing effects of sound and vibration therapy to relax your body and calm your mind.
Patented SoloCarbon Heater Technology
To deliver health benefits like heart health and detoxification, infrared heaters must emit high concentrations of the best infrared waves optimized for the human body to absorb. Sunlightenÿworked with a chemistry/coatings expert to develop our patented heating panels. This first-of-its-kindÿcarbonÿheater coating changed the industry with years of scientific study, analysis and expertise. We innovated the active ingredient called SoloCarbon: a special coating that maximizes the highestÿqualityÿandÿquantityÿof infrared available. Independent testing proved it 99% effective.
Contact our team for more information about sauna pricing. Complete the form below and a member of our team will be in touch with you shortly.