Are you the proud owner of a hot tub? Chances are you're all too familiar with the importance of a high-quality spa cover. The right hot tub cover can help to keep the heat trapped in and debris out, resulting in lower heating costs, cleaner water and a better overall experience.
By cleaning and caring for your hot tub on a regular basis, you can help to prolong the lifespan of your cover and help preserve the quality for longer.
Do I Have to Clean My Spa Cover?
To put it simply: yes, you have to clean your hot tub cover regularly.
We recommend rinsing your spa cover with water from the hose on a weekly basis and engaging in a more in-depth cleaning once a month.
By keeping your hot tub cover in pristine condition, you can help to prolong the lifespan and keep it in a better condition for longer, not only saving you money in the long run but also contributing toward a better spa experience.
3 Easy Steps to Cleaning Your Hot Tub Cover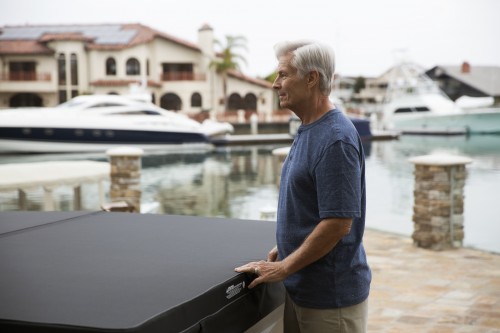 1. Remove the Cover
First, remove your cover and place on the ground or prop it up on the side of your fence. Be sure that your garden hose can easily access where you place your cover, you are going to need it.
2. Clean With Spa Cover Cleaner
Next, use your garden hose to rinse the spa cover. Once rinsed, use a preferred spa cover cleaning agent for a deeper clean. Spa cover cleaner can help to remove built-up chemicals from the spa water, along with any bacteria found on the surface.
It can also help to prevent the growth or spread of bacteria, algae and mould, resulting in a cleaner and safer spa experience. Rinse with hose water and then move on to the next step.
3. Dry and Replace
Once your hot tub cover has been completely cleaned and rinsed, use a microfibre cloth to wipe it dry. You may want to leave your cover propped up against the fence or the side of your spa to allow for further drying all around.
Once it's dry, you can place it back onto your spa and lock it into place. Some opt to use a protectant product or wax to keep the material on their cover in good condition for longer, preserving the quality and reducing the risk of rips or tears.
Sundance Spas of Edmonton
Whether you're shopping for a hot tub or hot tub cover, Sundance Spas of Edmonton has what you need. We carry a wide range of hot tubs from industry-leading brands and in a range of sizes, from models that can comfortably seat two to three people, to units that are perfect for six or more people, and everything in between.
Not only do we stock a selection of spa covers built to last for years to come, but also a number of other accessories that can help to improve your hydrotherapy experience.
Visit our Edmonton hot tub store for steps and cover lifters, to water care products, aromatherapy essentials and more.