Cooler weather is on the horizon, and there's no better time to begin thinking about how you'll spend the cold winter evenings.
And what better way than below the crystal clear water of a 6-person hot tub?
Hot tubs may come in many sizes, but 6-person models have become a family favourite offering ample space to share that's perfect for adults and kids alike!
If you've been thinking about investing in a new aquatic playground, this is the article for you! We're covering some of the top Sundance Spas®️ 6-person hot tubs, and some accessories that'll have you hooked on your evening soaks!
Is a 6-Person Hot Tub Right For You?
Before we can explore some of the models making a slash, we need to figure out if a 6-person hot tub is the best fit for you.
But how do you know if that's the right size for your needs and lifestyle?
To make this as simple as possible, let's talk about the major benefits of 6-person hot tubs and see how well they align with your vision.
They're Perfect For Families
One of the best things about 6-person hot tubs is their size and comfort for multiple people.
Whether you have a couple of young children or a house of a few teenagers, these hot tubs are large enough to offer roomy interiors everyone can be comfortable in.
What's more, with the right design, your hot tub can become a waterpark for your young ones as they splash around the warm water with their friends, even in the dead of winter!
They're Suitable for a Variety of Spaces
If you have a smaller backyard and are worried a larger hot tub may not fit, a 6-person model may be just the right solution.
These hot tubs can range from a moderate 78" x 78", to 91" x 110". This makes it possible for these hot tubs to not only fit in a variety of spaces, but complement them.
They Offer Variety
Mid-size hot tubs are spacious enough to offer a range of seating options without leaving the interior feeling cramped.
This ensures that no matter which model you choose, you'll never feel like you've settled.
The Perfect Combination Between Intimacy and Entertainment
And, of course, one of the biggest talking points when it comes to hot tubs, is the atmosphere they create!
Sure, any hot tub can create a relaxation haven, but 6-person hot tubs are spacious enough to make entertaining guests effortless while maintaining a cozy atmosphere for intimate evenings with your partner!
Still not sure if a 6-person hot tub is the right match for your lifestyle?
6-Person Hot Tubs to Transform Your Edmonton Backyard
So, is a 6-person hot tub right for you?
If so, keep reading, because we're diving into five stunning models from Sundance®️ Spas, and exploring everything these models have to offer!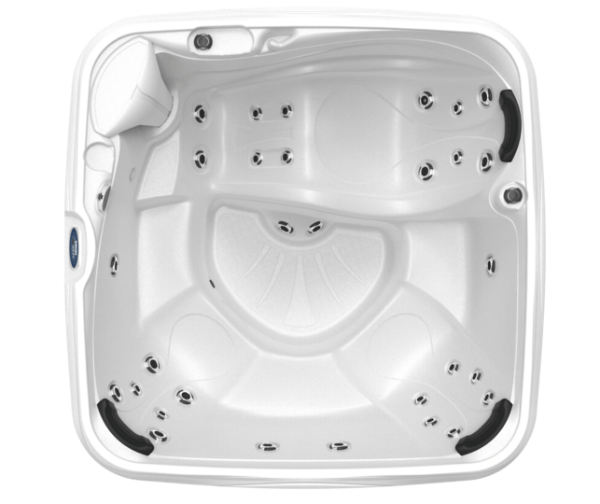 The Berkeley™️ Spa – For Budget Seekers
If you're trying to stick to a tight budget but still want the luxury of a premium hot tub, the Berkeley™️ model is sure to meet your needs!
Not only does this spa come in at an impressively friendly price, but it's also one of the simplest models to install, boasting a Plug n' Play design.
This spa was designed with durability and efficiency in mind, with full-foam insulation to lock in heat, and made of patented Syncrylic®️ material to easily withstand the test of time.
Additionally, this model offers both lounge seating and upright seats, ensuring you can easily find the comfort you crave each time you step into its welcoming waters.
What truly makes this model stand apart from others on this list is the optional Suite Package. This add-on seamlessly integrates a cover lifter, handrail, and steps with storage, all designed to match the colour scheme of your model!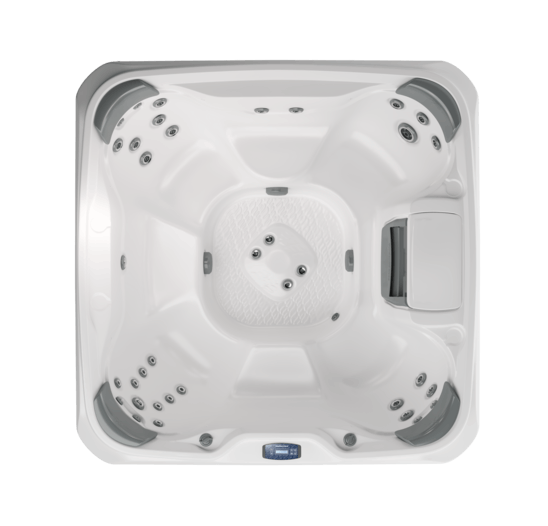 The Edison®️ Model – For Young Families
Are you looking for something with a more open-concept design for your kids to play in?
If so, the Edison®️ model may be your dream match. This spa may measure in at 84" x 84", but with its unobstructed interior, it'll feel massive once you're in the water.
Inside, you'll discover four luxurious corner seats designed to hug the contours of your body, lifting the weight from your joints after a long day.
Along the back of each is a unique cluster of jets to easily meet your changing needs day to day, massaging a variety of muscle groups.
The exterior will be just as inviting as its sparkling depths, with sleek premium cabinetry and accent lighting, adding a hint of sophistication to your backyard.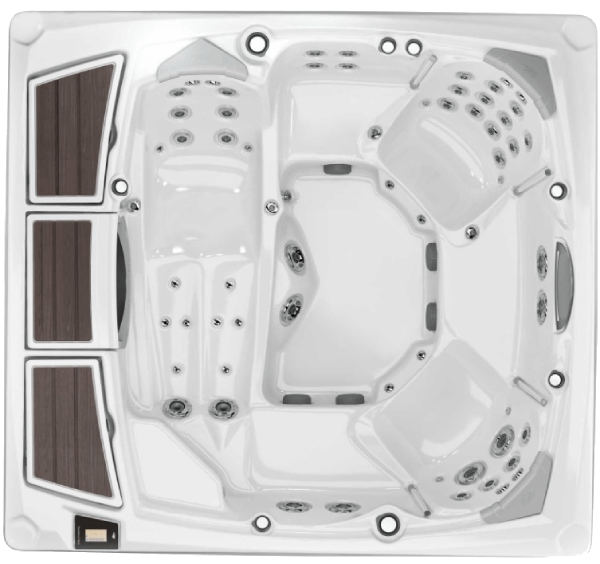 The Claremont®️ Hot Tub – For Those Who Crave Luxury
If you dream of high-end cabinetry, showstopping lighting, and exclusive features, the Claremont®️ should be at the top of your list!
This 6-person hot tub is sure to make an impression on everyone who walks into your backyard, with its textured cabinet and corner accent lighting.
After sunset, you'll discover the stunning hues of the underwater LEDs, leaving your hot tub water glowing as you enjoy a soothing hydromassage in one of the various therapeutic seats.
Tucked along one side of the hot tub, you'll discover the SunCooler™️ cold storage, the perfect place to store child beverages for kids and adults alike!
With seats of varying heights, this hot tub provides a comfortable experience for people of all sizes, and with a full-length lounger along one side, you'll feel like royalty during every session!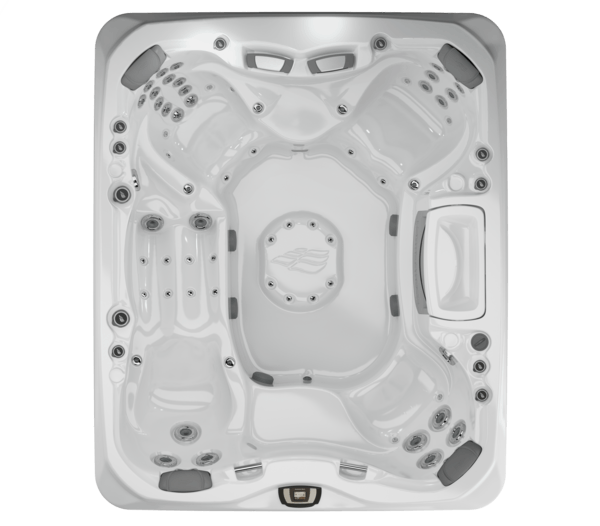 The Maxxus™️ Spa – For Those Who Want it All
Are you someone who has trouble deciding what they want, and ultimately ends up wanting it all?
The Maxxus™️ hot tub was made for people just like you!
This model truly is one for the history books. With a lounger offering a full body massage, from your neck to your toes, and two of the most coveted therapeutic seats, it's the pinnacle of relaxation.
But hydrotherapy is only the beginning. Through the innovative air-only jets and SunScents™️ technology, this model will tantalize all your senses, filling the air with bursting aromatherapy each time a bubble breaks the surface!
Wrapped in stunning SunSide cabinetry and corner accent lighting, this model is sure to become a statement piece in your space, bringing your experience full circle.
Hot Tub Accessories to Amp Up Your Time in The Water
A hot tub alone can boast some serious benefits, but accessories can bring the experience even further.
Spa accessories come in various styles, some aiming to achieve a higher sense of relaxation, while others provide additional functionality to your spa.
Cover & Cover Lifter
A cover for your spa is a must. Not only does your cover keep debris from falling into your water, but it also locks in heat, keeping heat loss to a minimum and maximizing the efficiency of your spa.
When paired with a lifter, opening and closing your cover will be a breeze, ensuring you won't need to strain your freshly relaxed muscles after you've finished your session.
Steps & a Handrail
Another functional item, steps and a handrail, improve the overall accessibility of your spa.
These are especially important accessories if you have your spa installed above ground, ensuring you and your guests can easily step into your spa without having to lift yourself over the edge.
SunScents™️
If you have an 880™️ Series or 980™️ Series spa and want to take advantage of the built-in aromatherapy system, SunScents™️ cartridges are a must.
These specially designed aromatherapy cartridges can easily be added directly into your spa, filling the air bubbles released from the air-only jets with the soothing scents of your choice.
As the bubbles break the surface, they'll release a wave of aromatherapy into the air around you, transforming your session into an all-encompassing therapeutic experience.
A Towel Heater
Do you catch yourself stepping out of your spa and quickly wishing you could stay within its warm depths as the chilled air steals away your cozy warmth?
Towel heaters are a perfect way to trap in the heat you've been soaking up, even during the middle of winter.
Many of these heaters are large enough for either a towel or a robe, ensuring you'll no longer have to face the cold after leaving your spa.
Simply toss your towel or robe into the heater before you hop into the water, and wrap yourself in its warm fibres the moment you get out, locking in the heat for the rest of the night.
6-Person Hot Tubs For Sale in Edmonton
Are you ready to update your backyard just in time to enjoy the most luxurious winter you've ever experienced without jetting off to a beach?
At Sundance Spas of Edmonton, our showroom is lined with these models and many more, each with its own unique elements to expertly match a variety of lifestyles.
Our team is here to help you create your dream backyard escape! Visit our showroom to explore your options in person, or contact us today to schedule a wet test and get a first-hand experience before investing!