Your backyard is your safe haven. It is your outdoor oasis and entertainment center. More often than not, the backyard is one of the proudest places in your entire home. It's no wonder that you would want to equip it with nothing but the best, like a pool or hot tub.
We agree that backyards have the potential to be a one-of-a-kind expression of how you like to live your life. That is why we compiled this list of the best backyard accessories for your pool or spa.
Whether you are already the proud owner of a backyard pool or spa, or maybe just dreaming and planning ahead, keep on reading!  We think you'll enjoy some of these ideas for backyard accessories. And before you know it, your backyard space will be ready for its first big party!
1. Exercise Equipment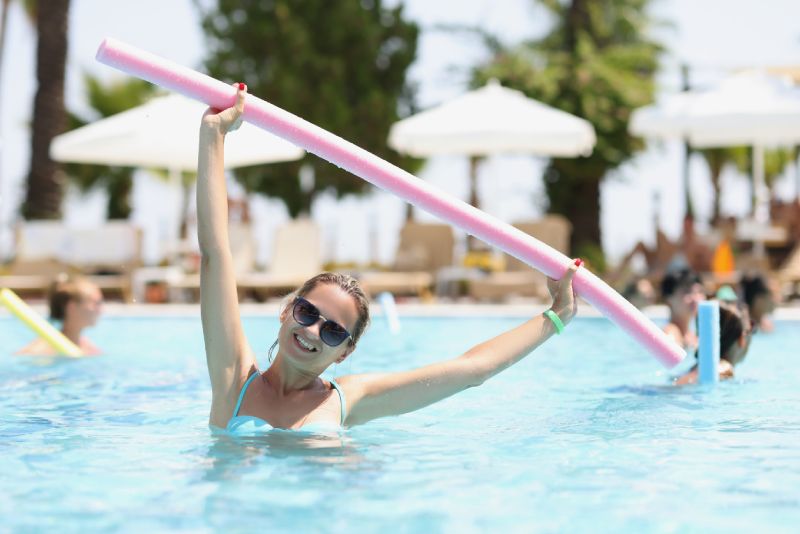 Lounging is not the only thing you can do with a pool or hot tub. There are also tons of ways to exercise and games that you can play.  Pools, hot tubs and swim spas are all wonderful amenities that can help you stay happy and healthy. All from the comfort of your own home.
If you want to be able to exercise in your pool, swim spa or hot tub, a few additional backyard accessories are recommended:
Goggles
Aquatic jogger belt
Flutter boards
Waterproof weights
Aquatic resistance bands
Kickboards
Aquatic exercise cuffs
Pools, swim spas, and hot tubs especially, are also great for certain types of yoga, aromatherapy and hydrotherapy. All the above are excellent for reducing stress and unwinding after a long day, week, month or even year (i.e. 2020).
2. Outdoor Furniture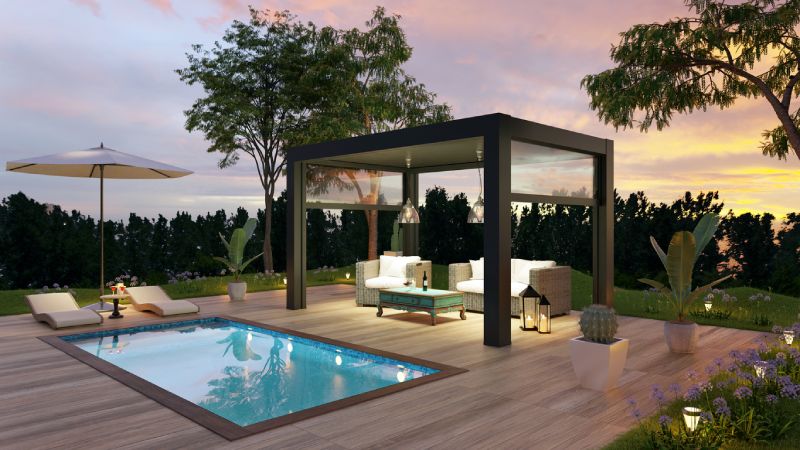 We take a lot of time to decorate the interior spaces of our homes.  The same should be true for the outdoor decor in our backyards. Having an amazing pool, sauna hot tub or swim spa is one thing. But having the furniture to accommodate them is a whole other thing.
As much as we would like to sit in our pools all summer, there comes a time to get out and dry off. That is why having some outdoor furniture is so important. Whether you are swimming or staying dry and just enjoying the weather, outdoor furniture can give you a comfy place to sit and relax.
In our opinion, all outdoor furniture should be:
Constructed with quality materials
Water-resistant
Comfortable
Easy to clean
Outdoor furniture can provide extra comfort, and take your backyard to the next level. Here are some ideas to ponder when it comes to our favourite outdoor furniture pieces:
Porch table and chairs
Outdoor bar and bar stools
Love seats
Hammocks
Hanging chairs
Sling chairs
Adjustable lounge chairs
3. Toys for The Kids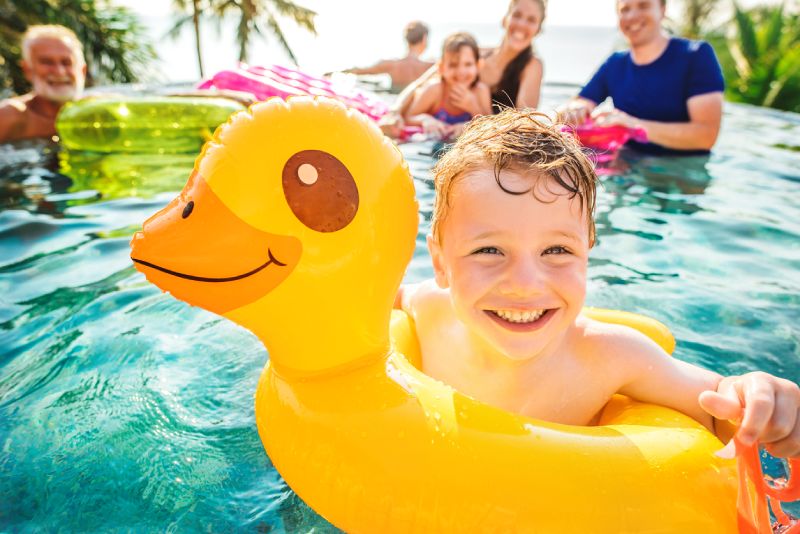 We all probably have memories from our childhood of playing in the backyard. Whether it was our own, a friend's, or a family member's, there was something special about the backyard.
If you have kids, grandchildren, or youngsters of any sort coming over, you're going to want to keep them entertained. Prepping the backyard, pool or spa with some toys and games can transform the space from a 'normal' backyard to your very own private amusement park.
Depending on the age, size and interests of the kids, toys will vary widely. However, we wanted to share some of the most popular ideas that our kids love:
Beach balls
Pool noodles
Snorkelling mask and goggles
Inflatables
Volleyball net
Basketball hoop
Dive toys
Water squirt guns
The more toys, the merrier. Just don't forget to have a toy bin, or a small storage shed to keep everything neatly organized, and ready to go whenever the kids come screaming to play.
4. Outdoor Lighting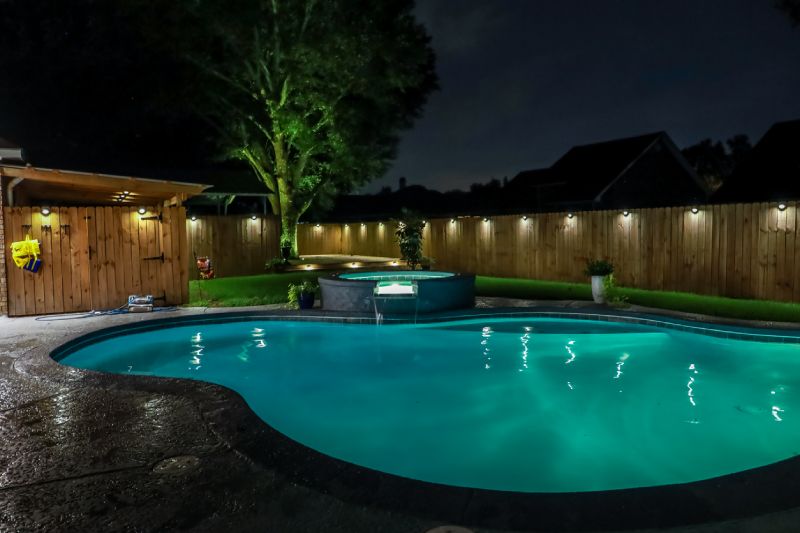 The party does not have to stop just because the sun goes down. In fact, some might say that with the sundown, the party is just getting started! This is especially true if your backyard space is ready and equipped with some outdoor lighting.
There are tons of ways to illuminate your backyard, pool, hot tub and swim spa in order to keep enjoying, even at nighttime:
Illuminated walkways
Deck steps and stair lighting
Hanging overhead lights
Motion-senor lights
Waterproof light features
Outdoor torches
Lanterns
Citronella candles
Bonfire pits & fire tables
Don't recede into the dark ages only because the sun has set. With outdoor lighting, you can continue enjoying your backyard pool and spa under the moon and stars.
5. Water Features
There is something incredibly simple and satisfying about a water feature. The aesthetic appeal is one thing. But the soothing sounds they create are also to be desired.
You may already have a water feature or two, depending on the model of your hot tub or swim spa. However, if you don't, we recommend looking into upgrading your backyard, pool or spa with a water feature.
Water features like solar fountains and birdbaths don't just look great. They actually provide a whole host of other important benefits:
Attract local wildlife like birds and frogs
Water sounds are soothing and stress-reducing
Drown out other, nuisance noises
Provide entertainment for pets, and kids
6. Waterproof Speakers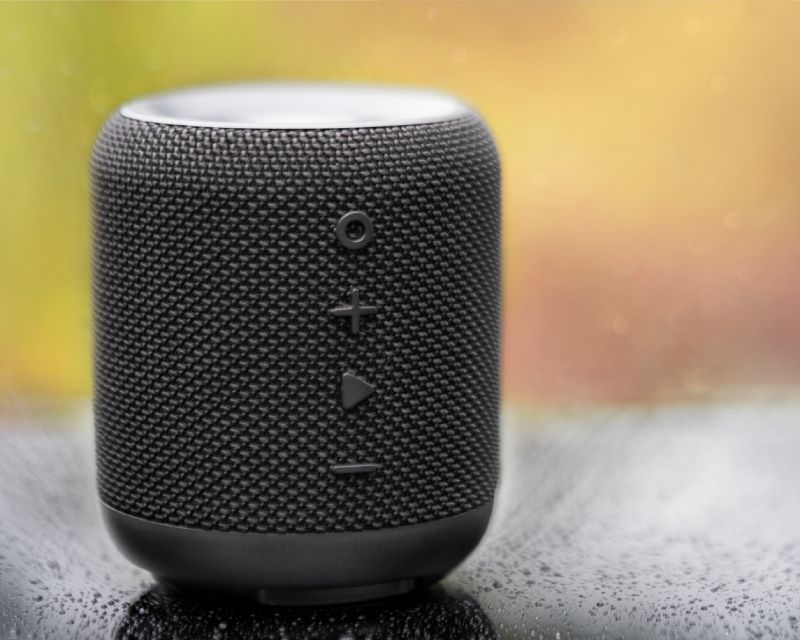 Some would say that music is the key to a good time.  Although we are fans of listening to the birds, bees and breezes, we also enjoy great music. With waterproof speakers or sound systems, you can accompany your backyard leisure with your favourite soundtrack.
Handheld, wireless, Bluetooth speakers are a reliable and simple solution. However, if you want to take it up a notch, installing permanent, all-weather and outdoor speaker systems can also be accomplished.
Whatever the case may be, we recommend that you invest in a waterproof speaker system. The waterproof capability will give you peace of mind when it comes to having them in and around the pool, and exposed to the elements like rain, snow and hail.
7. Shade Shelters
Sunny weather is ideal for enjoying the outdoors in your backyard. But only up to a certain point. Nobody likes when it's too hot, and when sunburns ruin what was previously a perfect day. That is why having options for shade in your backyard are so important.
There's no such thing as a silver bullet solution for all shade upgrades. Everyone's backyard situation is different, with varying aesthetic requirements and space parameters.
Nonetheless, we want to share some of our favourite different and creative ways to bring shade into your backyard pool and spa area:
Gazebo
Electronic retractable awning
Shade trees & shrubs
Pergola
Outdoor curtains
Patio umbrella
Sail shade
Spa-side umbrella
Accessorizing your backyard with some sort of shade provides valuable sun-protected space and functionality even during the hottest and sunniest parts of the year.
8. Water Slide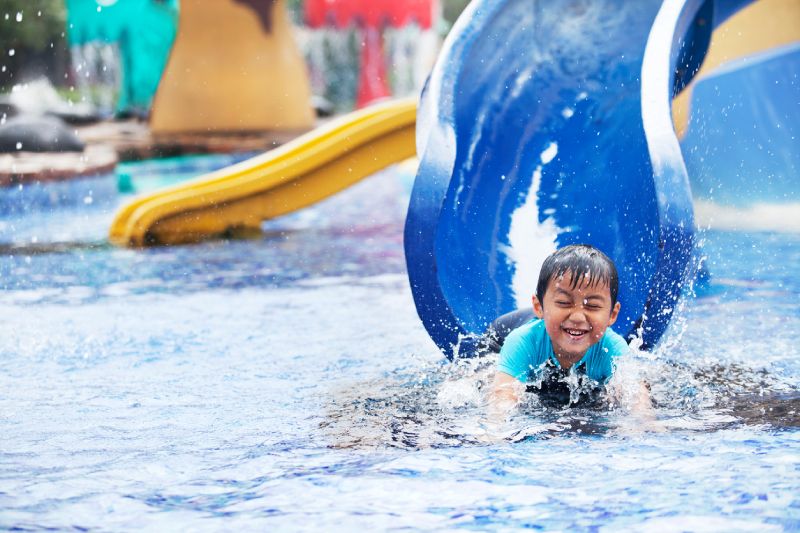 If you've ever gone to a public pool, or water park, and seen a couple of swimmers go down the water slide, then you know exactly what pure joy looks like. Even adults who head down the slide cannot help from smiling and giving a holler.
Now imagine bringing that joy and excitement right to your backyard pool. If you've got the space for it, we cannot recommend a water slide enough. They are easy to install and even easier to maintain.
Your kids, grandkids and neighbourhood kids will all thank you. Even your own inner-child will be thankful.
9. Spa Steps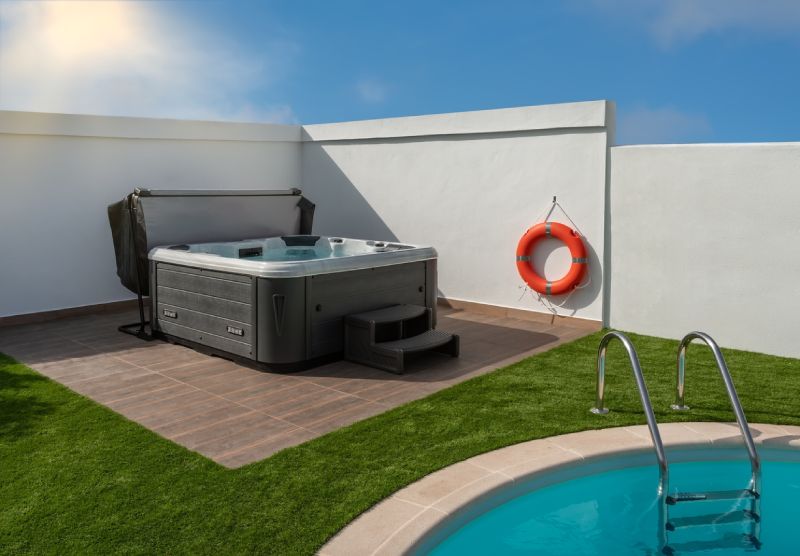 Yes, it is possible to exercise inside your hot tub, swim spa or pool. But getting in and out of the water does not need to be a part of the routine.
With spa steps, you can safely and comfortably get in and out of your spa without any climbing. Maybe the climbing is okay for the rambunctious youngsters, but for us folks who prefer the ease and comfort of stepping in and out of the water, spa steps are the only way to go.
If you've gone some time without spa steps, well, the more power to you. But we firmly believe that if you upgrade your set-up with this simple, game-changing accessory, that you'll never look back.
10. Pellet Grills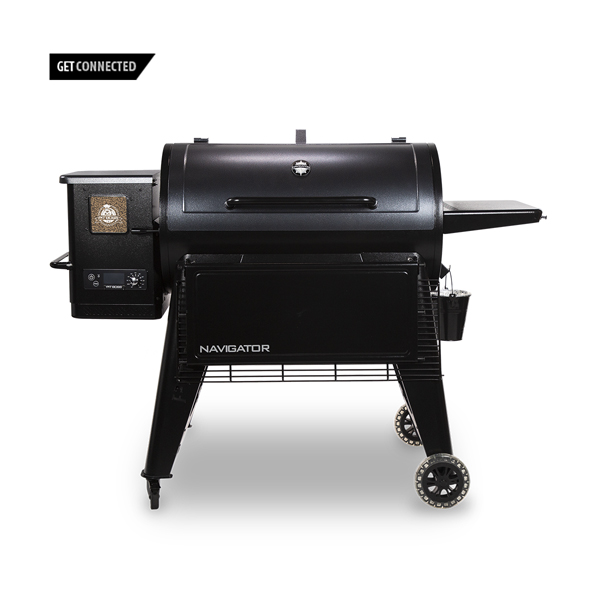 Backyards are not only great for water sports in the pool, and lounging in the hot tub.
Backyards are also perfect for outdoor cooking, especially with pellet grills. There is just something special about enjoying the nice weather and cooking outside.
Pellet grills are outdoor cookers that combine the likes of smokers, charcoal, gas grills, and ovens into one machine. They use hardwood pellets as a fuel source that are fed into the cooking chamber by an electronic auger. The pellets are ignited via combustion, and the heat and smoke are then dispersed throughout the cooking chamber.
Pellet grills are versatile outdoor cookers with many benefits. We love pellet grills because they:
Are constructed from high-quality materials and are extremely durable
Provide precise temperature control
Can bake, BBQ, braise, roast, grill, sear and smoke
Come backed with long warranty plans
But don't just take our word for it. Find out for yourself. If you are a fan of outdoor cooking but don't have a grill, or maybe want to upgrade your current set-up, well then, it's absolutely time to check out the wonders of a pellet grill.
11. Other Functional Backyard Accessories
Making the most out of your backyard is so important. The more you can do to make it a comfortable and functional space to be in, the more time you will want to spend outside and enjoy it amongst the company of your family and friends.
When talking about interior spaces, sometimes it's the little things that really make or break the room. It's the same for the exterior of your home and your backyard. But you already knew that, didn't you?
Well, just in case there are a few ideas that slipped your mind, take a look at our list of functional backyard accessories for some added inspiration:
Outdoor Storage Shed
Sheds are perfect for organizing pool toys and other cool backyard accessories. Sheds keep everything out of the elements, enhancing their life span.
Mini Fridge
If you can avoid tracking water through the house as you go get a soda, why not?
Towel Rack
We've all hung wet towels on railings, chairs and other furniture. Sure, it works, but it's not the best solution.
Accessory Hangers
Hooks and other styles of hangers are easy to install and extremely helpful.
Towel Warmer
Cold winter evenings are perfect for relaxing in the hot tub. With a towel warmer, you can avoid catching a chill as you dry off before heading inside.
Outdoor Shelving
The more storage the better. Shelving keeps all your favourite items on display and at the ready.
Slip-Resistant Flooring
Pool decks, hot tubs and patios can become slippery when wet. But with a few slip-resistant mats in strategic places, you can enhance the safety of your backyard.
Protective Fencing
If you have youngsters who cannot swim, pool and other bodies of water can be major safety concerns. Protective fencing around the pool is a must. Plus, it can help keep out curious wildlife.
Chemical Storage Area
Pool chemicals and routine maintenance are vital for the longevity of your hot tub, pool or swim spa. Having a dedicated storage space, separate from other backyard accessories, makes maintenance even easier.
Get All Your Backyard Accessories with Sundance Spas of Edmonton
You are passionate about making your backyard the best that it can be, and living the healthiest and happiest life possible. We love that because, so are we! And we want to help.
For over 40 years, we've invested our timhttps://www.sundancespasedmonton.com/about/blog/item/ways-to-live-a-healthier-and-happier-lifestylee and energy in becoming award-winning experts in transforming boring backyards into once in lifetime spaces.
We specialize in hot tubs, pools and swim spas. But can also help you elevate your home to the next level with saunas, pellets grills and other luxurious amenities.
If you're itching to get underway with your backyard upgrades or have any other questions or curiosities, don't hesitate to contact us.