Elevating your backyard with a hot tub can provide you and your family with unmatched relaxation and soothing pain relief, while also helping you spend more quality time with your loved ones every day!
If you've begun exploring your various options, you may have wondered what the best hot tubs are, and you're not alone in that.
Finding your dream spa should be a stress-free experience, and the only way to ensure that happens is to have as much information as possible.
So we're going to give you everything you need!
In this article, we will break down some of the most important things to know before you buy your hot tub and explore six of the best hot tubs on the market this year that can easily fit a range of lifestyles.
Let's find your perfect spa!
What To Know About Hot Tubs Before Buying
Buying a hot tub is an investment, and choosing the right one is essential.
After all, it'll be massaging your aching muscles for the next decade (or more!)
When you first begin looking at all the hot tubs on the market, there are some things you'll want to be aware of first.
Different Hot Tub Sizes
Hot tubs come in various sizes, with the smallest ones fitting two to three people, while the largest ones can fit up to eight!
While you may think a larger size means a bigger price tag, that's not always the case.
Sundance®️ Spas have broken down their hot tubs into various series, making it easier to stick to a budget without having to compromise on size.
One thing you'll want to do before you start looking for your spa is choose which size would be best.
You can do this by considering two factors:
Who would you like to share your spa with?
How much space do you have to work with?
One of the most influential of the two will be the size of your backyard.
While you may love the idea of inviting your entire family over to jump in the spa, if you have a small backyard, you'll need to find a model that will fit in your space without crowding it.
Hot Tub Appearances
Hot tubs come in all kind of shapes and sizes.
While the standard shape will be square or rectangular, others, like the Denali®️, will be round, maximizing how many people you can share your spa with without needing a large space.
Your hot tub's appearance will also be influenced by its cabinet.
Each Sundance®️ Spas series has a cabinet that's unique to the spas within, not only giving you flexibility with your budget and size but also with the impression your spa makes.
Each cabinet will not only have its own style but also come in various colours, making it possible to easily find one to fit your aesthetic.
Your shell can also impact your spa's appearance, with many models offering various shell colours, ranging from Midnight black to the pristine white of Porcelain.
Hot Tub Features
Each hot tub model will have a base set of features and often include a few optional features you could opt to add on if they're important to you.
The features of your hot tub can make or break your experience with your spa, so choosing one with the right features for you is vital.
For example, some models include lounge seating that offers a full body massage, which may be something you can't imagine your hot tub not having.
Alternatively, you may want specific jet configurations or styles to target the muscles that cause you the most pain.
Some models include specialty seats and jet designs to optimize the massage experience.
Considering the features you wouldn't want to go without in your spa will help narrow down your options.
Some features you may want to consider include:
The SmartTub™️ Water Management System
SunScents®️ Aromatherapy
The Accu-Ssage Seat
LED Lighting
Jetted Footwells
Waterfalls
Before you buy your hot tub, create a list of your "must-have" features so that you don't miss out on the ones you need most.
Hot Tub Cost
Hot tubs have a wide range of price tags, and your budget will play an important role in the hot tub you choose.
The good news is that many dealerships offer financing options to make it more affordable for you to buy your dream spa without compromising on features or size.
The cost of your hot tub will be more than just the cost of the physical unit. Some other costs you'll need to consider include the:
Installation, such as your foundation
Monthly energy costs
Cost of your water treatment products
You'll need to consider the cost of installation, like your foundation cost, the monthly energy costs, and how much you'll be spending on your treatment products.
To make breaking this down more easily, consider what you can afford each month, and work alongside a dealership to find the model that both has the features you need and fits within that monthly budget.
The 6 Best Hot Tubs From Sundance®️ Spas – Our Top Picks for 2023
In this list, you'll find a range of hot tubs to fit every lifestyle, from the best model for large families to the one that provides the best therapeutic experience.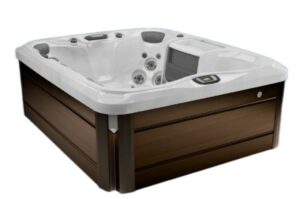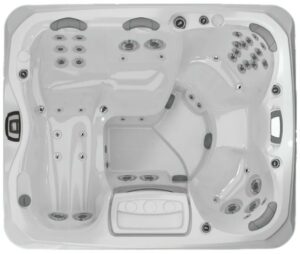 The Marin®️ – Best Hot Tub Overall
The Marin®️ is the perfect hot tub for any lifestyle, offering a spacious design with enough room for five while maintaining a low profile, making it easy for everyone to get in and out of your spa.
With both an Accu-Ssage™️ seat and a full-length lounger, you're aching muscles will be massaged into complete relaxation from every seat, from your neck and shoulders to your wrists and feet.
This model is the perfect way to reconnect with your loved ones, providing a unique seat adjacent to the lounger that makes it easy to enjoy a side-by-side massage while catching up at the end of each day.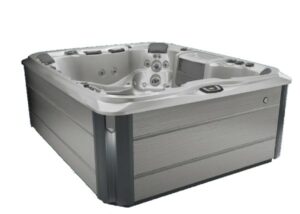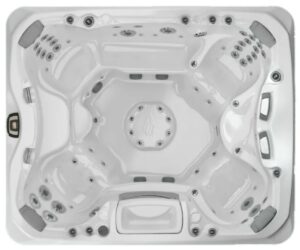 The Aspen®️ – Best Hot Tub for Large Families
The Aspen®️ boasts enough room for eight and includes a unique bench seat, making this model a stunning addition to any family home.
With its open design, this model is perfect for entertaining the kids in your family, with enough room for them to splash around while you enjoy a soothing deep tissue massage in the Accu-Ssage™️ Therapy Seat.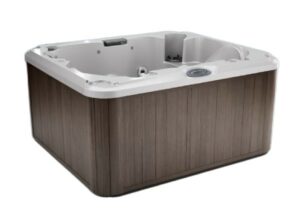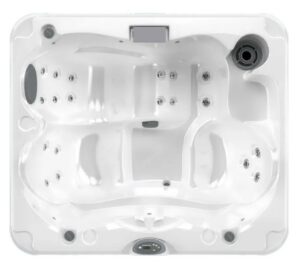 The Alicia™️ – Best Small Hot Tub
The Alicia™️ is a small hot tub to create an unmatched intimate retreat right in your backyard.
With lounge seating that provides a powerful full-body massage and two ergonomic upright seats, this small hot tub is packed with stunning features and will leave you feeling completely refreshed after each session.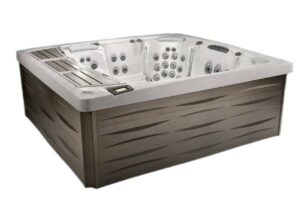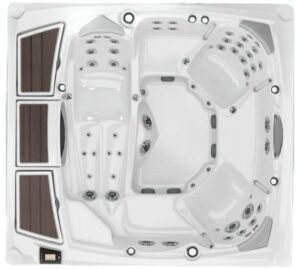 The Claremont®️ – The Perfect Luxury Hot Tub
The Claremont®️ is one of our most luxurious models, with stunning premium cabinetry, and a built-in SunCooler™️, you'll love every minute you spend in this spa.
With enough seating for six, this model is easy to share with all your loved ones. The Claremont®️ includes a full lounger and various jet configurations to easily target the muscles that need relief the most every day of the week.
To enhance this model even more, it's been equipped with the SmartTub™️ Water Management System, giving you complete access to your spa right from your phone.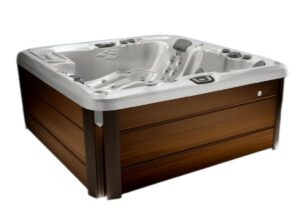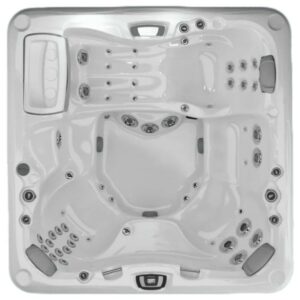 The Cameo®️ – Best Therapeutic Hot Tub
The Cameo®️ boasts an impressive design that not only looks stunning but easily provides an unmatched relaxation experience.
With a full-length lounger, you'll be treated with a full body massage that'll ease the tension in your shoulders while soothing your aching legs and feet.
Paired with both the Accu-Ssage™️ Seat and Intelli-Jet™️ Seat, melting away your stress will never be easier.
To elevate your spa sessions even further, this 880™️ series hot tub features exclusive Silent Air®️ Injector Jets, providing a gentle massage while also amping up the health benefits with aromatherapy through SunScents Technology.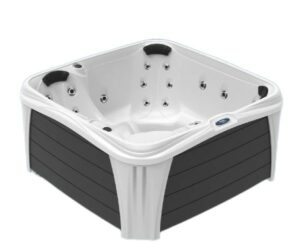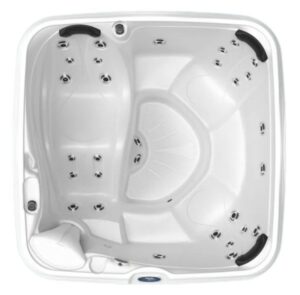 The Berkeley™️ – Most Affordable Hot Tub
The Berkeley™️ is easily one of our most affordable models and has enough seating for you to share with five of your closest friends.
With its lounge seating, various jet configurations, and comfortable ergonomic seats, this model didn't compromise on your relaxation.
Better yet, with its plug-and-play design, the installation will be a breeze. No need for electricians or special outlets. Simply plug it into your existing outlet, fill it up, and enjoy your first soothing session!
Get Your Best Hot Tub at Sundance Spas of Edmonton
Whether you're looking for a luxury hot tub to elevate your backyard or want one that was designed with families in mind, Sundance Spas of Edmonton has the model for you.
Our showroom is filled with stunning, top-quality hot tubs of every size, with various designs and features to ensure you can easily find the model that can meet all your needs.
Visit your local showroom, or contact us today to get started!